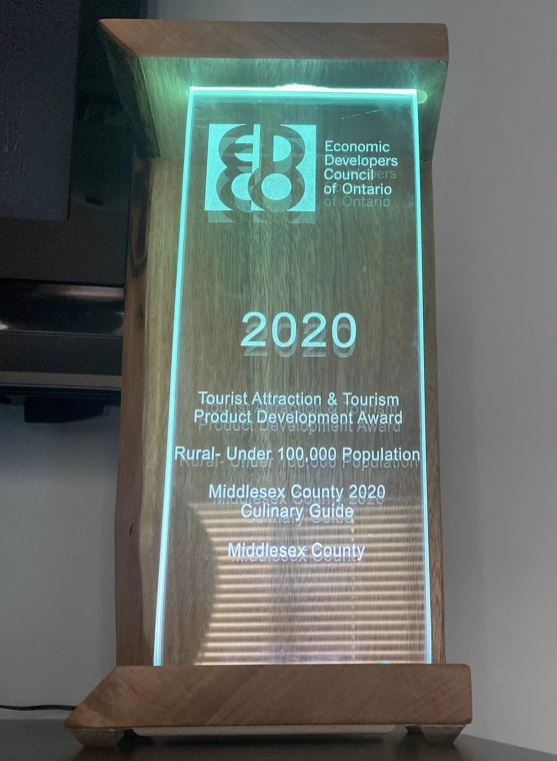 Middlesex County Economic Development is very pleased to announce that it received a coveted first place at the Economic Developers Council of Ontario Conference earlier this month. The awards ceremony, which honours best practice economic development efforts from across the province, took place virtually on Thursday, February 11th.
The County's Department of Economic Development is honoured to be the recipient of EDCO's 2020 Tourist Attraction & Tourism Product Development Award (Rural) for the creation of our Middlesex County Culinary Guide! The Department, which acts as the Destination Marketing Organization for the region, is excited to share with others the amazing flavours from around the County through this publication. "Accepting this award on behalf of our community amid a pandemic is all the more special. We are very proud to celebrate and highlight our hard-working farms, markets and culinary businesses across Middlesex County," stated Cara Finn, Director of Economic Development and Tourism.
The County extends its thanks to the Economic Developers Council of Ontario for this honour and to its project partners including Middlesex London Health Unit, Middlesex-London Food Policy Council, Middlesex Federation of Agriculture, Tourism Industry Association of Ontario (TIAO), and FedDev Ontario for helping them bring this project to life! Special thanks to everyone who has used this guide as their map to continue supporting local businesses in our area. Together, we are #MiddlesexStrong.