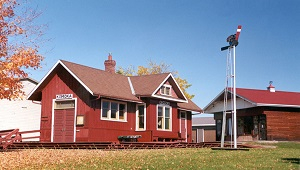 Address
131 Queen Street
Komoka ON
Canada
A portion of the museum is housed in the former Canadian National Railway station in Komoka, Ontario. When purchased as a museum in 1978, the building was moved to its present site north of the CNR tracks and adjacent to the Komoka Community Centre.
Many railroad items are available for close examination including telegraph keys, spike hammers, spike pullers, switch lanterns, steam gauges, a railroad safe, a baggage sleigh and a three-wheel velocipede.
The Museum's pride is a 1913 Shay steam locomotive, which is now nearly completely restored. It rests in its own building along with other artifacts. When restored, a pre-1939 steel-sided baggage car will house the gift shop, office and a model railroad display.